---
Japanese craftsman x German Orthopedic Shoes Meister
---
A comfort shoes for a Japanese and an Asian.
---
The gute wahl was started to develop when a Japanese craftsman met German Orthopedic Shoes Meister from developed country of comfort shoes. They aimed to develop a pair of shoes to meet "Japanese and Asian expectation of wearing easiness combined with functionality of European comfort shoes".

They intake knowledge and experience of Japanese craftsman who knows really precisely the issue of Japanese foot and developed appropriate shoes last, insole, outsole and upper to fit Japanese foot. They developed ultimate pairs of domestic comfort shoes which is seemed too difficult to realize in Japan.
Now, many of repeaters and users supports this shoes and even now, craftsmen in Kobe manufacture this shoes one by one carefully.

Since 2018, the gute whal has been exported to Asian countries, and many Asian people feel comfort from the gute wahl.
---
---
Do you feel difficulty in selecting shoes?
---
Many people has difficulty in selecting shoes like "No shoes fits to me" or "I want a pair of shoes easy to walk" or "I tend to exhaust easily".
To solve these issues, we developed the gute wahl.
To realize the concept of German Orthopedic Shoes based on medical knowledge like orthopedics or human engineering as a pair of shoes to fit Japanese and Asian foot.
German Orthopedic Shoes Meister and Japanese crafts men deliver pairs of shoes to you from Kobe, where has long history of shoes production with full of wishes.

Please feel wearing comfort with enjoying walking.
The gute wahl is a "wise choice" to somebody who wishes beauty and health.
---
gute wahl supervision by Meister Reiche
---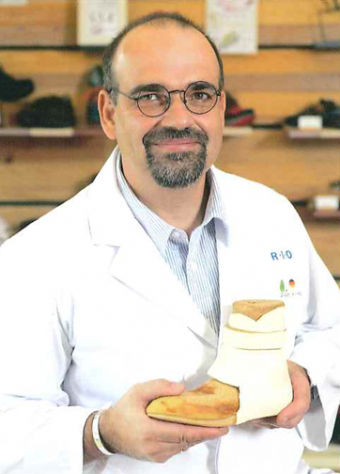 In the beginning when I came to Japan, I've provided comfort shoes made in Germany. However, it was clearly difficult to fit those shoes made to fit German lady, to Japanese women who has foot trouble and slender skeleton around heel.
I've looked for pairs of shoes which "fits to Japanese foot" and "as a proper container of inserts to meet Japanese foot trouble".
It was difficult for me to find these shoes and I started to think of developing the kind of shoes. At that time, I met a staff in Lucky Bell.
I named the shoes "gute wahl" which means "wise choice" in Germany to make a wish to be a good choice for somebody who has trouble in foot.
Profile of our Meister
Karsten Reiche
German Orthopedic Shoes Meister
1986 : Certified as German Orthopedic Shoes Gesele
1996 : Graduated Meister Schule BFO Hannover, Certified as German Orthopedic Shoes Meister
1997 : Came to Japan as a trainer of German Orthopedic Shoes
2007 : Established "Orthopedic Shoes Lab. R・I・O"
Involved in production of order-made shoes for somebody who has foot problem all over Japan
2008 : Involved in joint development of gute wahl under Kobe health shoes workshop
2013 : CEO, Nature's Walk co. Ltd,
2015 : Advisor, General incorporated association Soku-Iku Lab.

---
---
---
Last
The shoes last to fit to Japanese and Asian foot
---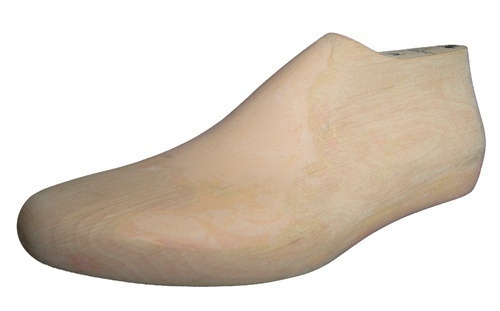 ---
The dimension of the shoes last defines shoe fitting. We pursue a last to "fit to Japanese and Asian foot".
On one hand, the last is designed as a comfort shoes without pressing toe, but on the other hand, it supports and hold the foot snugly.
Also, the last is designed to a person who has high instep, hallux valgus or splay foot.
Because of this last, the gute wahl could realize distinguished fitting tightly covered with natural leather.
Insole
Apply wearing comfort to the foot
---

---
Unique three dimensional shape supports 3 arches naturally and hold your heel snugly.
By holding planter heel or arch, you can walk comfortably without feeling tiredness on the foot.

Not only for healthy person, but also someone who has hallux valgus,
flat foot or spray foot is recommended to wear these shoes.

You can feel wearing comfort from planter side of your foot.
You can select the insole from 2 different kind, cork insole with stronger support or EVA insole with light weight and cushioning.

※Cambrell material with durability and humid absorption feature is used to cover EVA insole.
Outsole
Outsole to realize smooth walking
---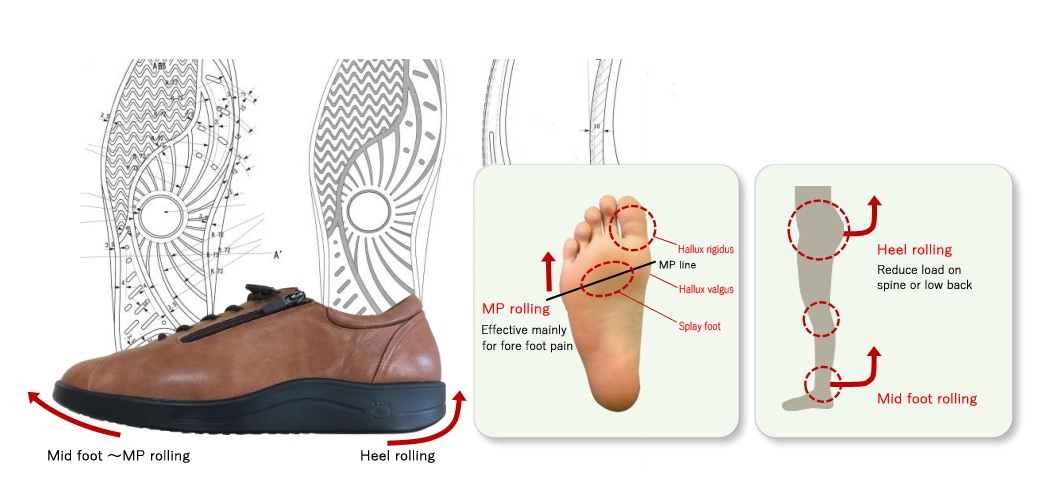 ---
The rolling sole is designed to realize smooth weight transition during walk.
Combining rolling on front and rear makes you walk active without exhausting and stable when you stand on.

・MP rolling … Reduce load on hallux rigidus or fore foot
・Mid foot rolling…Support load on ankle or knee
・Heel rolling…Reduce load on spine or low back

---
Upper design
Upper design based on ergonomics
---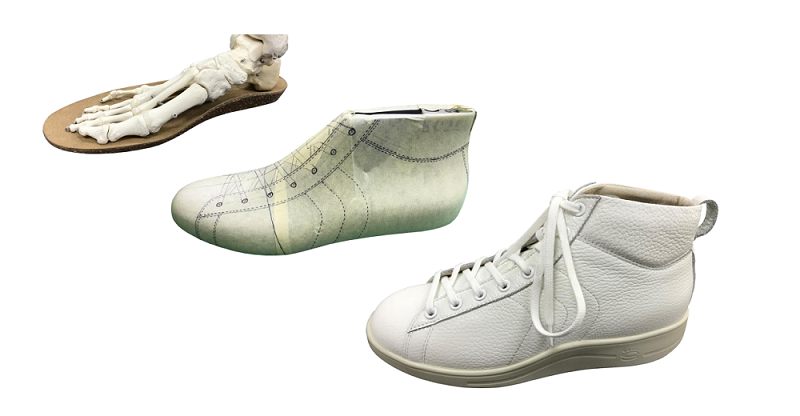 ---
We aim to hold the user's foot tightly without stress, pain by preparing various kinds of upper.
We design the construction, overwrapping of the parts and also select the materials considering anatomical foot shape or influence to motion of walking.
It is really an important point for the shoes to grant walking comfort.
It's not only for an issue of appearance.
---